Lead from the Heart: How to Embrace Emotions at Work
An experiential learning journey


Wednesday–Friday, October 26–28, 2022

5–6:30 p.m. CEST respectively

The pandemic has made us realize what really matters to us. We want a sense of identity, belonging, and meaning from work, and a crucial part of it is the permission to show the full range of our emotions. Study after study proves that emotions are a critical factor for effective leadership, high performance, and fulfilment. And yet, emotions, especially the more complicated ones, are still often stigmatized or ignored at the workplace.
This presents a unique opportunity: Embracing our emotions—feeling MORE, as leaders and human beings—is the difference between a merely efficient and a beautiful business, between a productive and a beautiful life. As we return to the office, at least part-time, how can we carry over and nurture some of this emotional diversity, to the benefit of our organization, our team, and our own?

In this course learn more about


- How to create a culture of emotional diversity that fosters engagement and innovation
- How to use emotions to make better decisions
- How to address and incorporate "negative emotions" such as sadness, melancholy, and grief, and use them to generate empathy and trust
- The importance of emotions in the creative process
- The future of emotions, specifically the role of emotions in our relationship to AI



How to take part

Buy your ticket for 495 EUR or become a House Resident to benefit from a discounted 295 EUR (make sure you're logged in).
We also offer a 50% discount for students and nonprofits.
Lead from the Heart: How to Embrace Emotions at Work
495 Euro general public | Free for Residents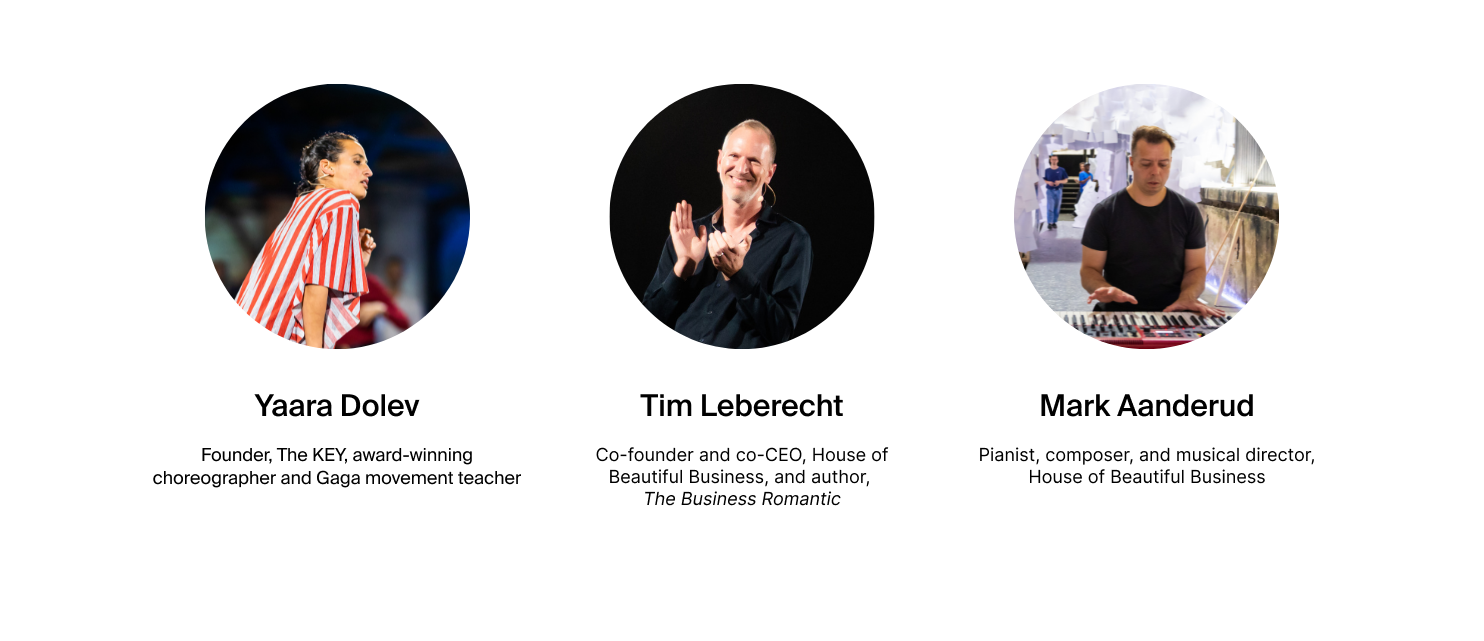 Agenda

This Beautiful Business Trip will take place on Zoom and comprise two 2-hour modules:

Day One, Thursday, April 28, 5 – 7 p.m. CEST

"The (Business) Case for Emotions," presentation by Tim Leberecht, co-founder, House of Beautiful Business

Discussion
Live music by Mark Aanderud
Day Two, Friday, April 29, 5 – 7 p.m. CEST

"20 Ways to Embrace Emotions at Work," Presentation by Tim Leberecht, incl. a list of concrete practices, tools, and acts of care
"Emotions and Embodiment" with Yaara Dolev, founder, The KEY, dancer, choreographer, and Gaga movement language teacher

Live music by Mark Aanderud


In addition to the live experience, participants will receive access to the recordings of the two sessions and all presentation materials.